T-3 Warrior
From NSwiki, the NationStates encyclopedia.
T-3 Warrior
General characteristics
Crew
4 (commander, gunner, loader, driver)
Length
395 inches (10 meters)
Width
166 in (4.2 m)
Height
80 in (2 m )
Weight
65-70 tons (63 tonnes)
Armor and Protection
Armor
Estimated at 1,500mm standard
NBC Protection
Self-Sealing Clean-Cooled Air System with dual charcoal filtration backup
Active Protection
FCLAS, ERA(T-3A1)
Armament
Main armament
128mm Cannon
Secondary armament
1x 15.5mm Machine Gun
1 x 11.4mm MG-109C GPMG
24 x M261 2.75 inch (70mm) Hydra rockets
2-8 x HOT mk4, TOW-3 or Hellfire anti-tank missiles
(70mm) Hydra rockets
4-12x SAM Missile
Mobility
Power plant
The PD XM-2300 Diesel-Electric Hybrid with hydrogen fuel cell battery backup.
Transmission
PD Sentinel 1220 series, 4 Speed Forward, 2 Speed Reverse
Suspension
Torsion Bar
Max speed
50+ mph / 80 kph
Range
350 miles / 560 km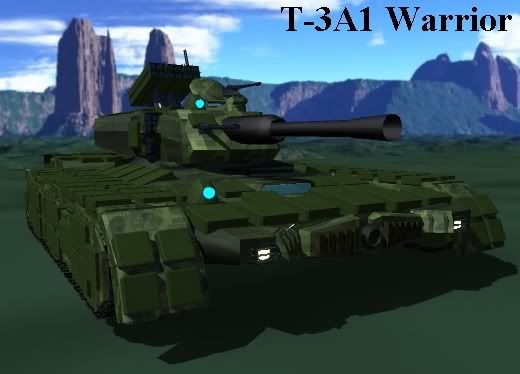 Introduction
The T-3 Warrior main battle tank was built as a custom order for Anagonia and is a typical Phoenix Dynamix design. It has been sold worldwide and is also used byThe Phoenix Milita's army. The "George W. Bush Tank" is a licensed copy of the T-3A1 made by Allanea. It is almost identical to the T-3A1 except it is fitted with the same 140mm main cannon of the Scorpion. Phoenix Dynamix markets the Allanean version as the T-3A2 Warrior.
Weapons
The T-3's Standard armament is one 128mm, 55 caliber smooth bore main cannon and there is enough room for ~60 assorted rounds (DU, HEAT, SABOT, STAFF rounds or HOT Mk2 anti-tank missiles) A smoke screen can be laid by an engine operated system. There are 8 HOT Mk4 Anti-tank missiles and 24 M261 2.75 inch hydra rockets on the turret. There is one coaxial 7.62mm M-240B machinegun that can be operated by the gunner(can be replaced with 6.66mm, .450, or .50 caliber). The secondary weapons can be swapped to match different client nation's standard ammo. The T-3A1 version includes full appliqué ERA and upgraded computers. For air defense up to 12 Stinger or SA-29 missiles can be mounted on the back of the turret, behind the commander's station. The commander sits in a standard control station with a 15.5 mm machine gun(can be used against aircraft if req.) on a pintile mount, and he can operate the rockets, missiles, the stingers , and designate targets for the main gun by using the CITV system.
Electronics
The Commander's Independent Thermal Viewer provides the commander with independent stabilized day and night vision with a 360 degree view, automatic sector scanning, automatic target queuing of the gunner's sight and back-up fire control.
CITV
Thermal Imaging System (TIS)
Eyesafe Laser Rangefinder(ELRF)
Gunner's Primary Sight- Line of Sight (GPS-LOS)
Digital fire control computer
300X optical zoom scope w/ thermal and nightvision in turret
Thermal/Nightvison/Video Gun sight w/6x optical zoom on 15mm
UHF,VHF,SATCOM communications systems
GPS receiver
all electronics are shielded from EMP in Faraday cages were possible
Engine
The PD XM-2300 Diesel-Electric Hybrid is a severe upgrade of the 1700 hp PD XM-1700 Diesel-Electric Hybrid engine which was created specifically for the T-1 Scorpion. It features the same fuel cell battery backup system for emergencies such as if the diesel fuel tank is hit and needs to be sealed off. It is governed at 50 mph to save fuel as usual. It features easy access panel to key components and it can be worked on with a minimum of tools as there are built in drivers on many bolts for quick access to preform maintenance or repairs. The engine compartment is protected against HEAT projectiles with non-explosive reactive armor, which can be topped with ERA in the T-3A1
Armor and Protection
The T-3 Warrior uses the same carbon composite encased depleted uranium armor as the T-1 and T-2. The side skirts of the treads are made of high density carbon composite, and are designed to blow outwards if impacted by a RPG or other munition. Armor bulkheads separate the NBC protected crew compartment from the fuel tanks as usual. The top panels of the tank are also designed to blow outwards in the event of penetration by a HEAT projectile. It is capable of being completely sealed for underwater travel and is protected against nuclear, biological and chemical (NBC) warfare through standard Phoenix Dynamix NBC systems. All electronics are shielded from EMP in Faraday cages where possible. The Full Spectrum Active Protection Close-In Shield or FCLAS is an option for the T-3 as it is with most PD armored vehicles and ships. The Phoenix Dynamix FCLAS features a canister loading system and fires from a single barrel. The FCLAS system uses 4 or more canister launchers tied into a combined RADAR/LADAR sensor system, computer controlled this system will detect and calculate the approach speed of a projectile, like a cruise missile, anti-tank missile or even a free-flight rocket. It then lobs the FCLAS projectile out at a specified trajectory, again computer controlled. The round bursts in the air at exactly the right moment, ensuring 80% of the time the warhead of the incoming missile explodes.
Specifications
Crew: 4 Commander Gunner Driver Loader
Length:395 in (gun forward)
Height: 80 in ("buttoned down")
Engine: PD XM-2300 Diesel-Electric Hybrid with hydrogen fuel cell battery backup.
Transmission: PD Sentinel 1100 series, 5 Speed Forward, 2 Speed Reverse
Top Speed:

Maximum Ungoverend: Unknown
Maximum Cruise: 50 mph (governed)
Cross Country: 38 mph
10% Slope: 25 mph
60% Slope: 8 mph
Acceleration: 0 to 40 MPH in 14 Seconds
NBC System: Self-Sealing Clean-Cooled Air System with double thick charcoal filtration backup
Weight: 65-70 tons depending on configuration
Main Armament: One (1) 128mm Main Cannon(can be targeted by gunner/commander)
Secondary Armament:

(1)7.62mm M-240B MG (COAX) (or 6.66mm 15.5mm MG-115, or 11mm MG-22/45/109) in main turret (operated by gunner/loader)
(1) 15.5mm GAU-15 Machine Gun or 12.7mm (.50 cal) or 11mm MG-109 machine gun (operated by commander)
(8) HOT Mk4 Anti-Tank Missiles(operated by commander)[optional]
(24) 2.75inch M261 Hydra rockets (operated by commander/gunner)
(12) FIM-92N Stinger/ SA-29 Missiles(operated by commander)[optional]
Cruising Range: 350 miles
Rate of Fire: 9 rounds per minute