Ruins at Oricon
From NSwiki, the NationStates encyclopedia.
| | You are now browsing an article about the Kingdom of Einmyria. |
| --- | --- |
Summary
History: Legends, Myths, and Beings
In 1984, while on a rare vacation from state duties with his family, HRH King Alexei rediscovered the entrance of the Ruins at Oricon. As King Alexei described it (in a rare television interview with KOEN3), he was taking his usual daily stroll around the property, feeling a need for some fresh air, when he decided to explore the cliff-face bordering the royal property. There was a hidden passageway of sorts, so to speak, where the cliff face jutted in, enough for maybe a carriage to pass, and he decided to explore it. After some minutes of walking and admiring the beauty of the cliff-face, he found the "end" of the passageway, and found himself in front of a beautifully-cut facade of a building from the actual cliff-face! There was an entrance of sorts, but it was blockaded by large boulders, preventing him from entry. It was only recently (after he retired) that he had managed to get the time and gather the appropriate expertise (he is the leader of the current team of Royal Archaeologists working on the Oricon Project) needed to fully document and excavate portions of the site.
Once they managed to get past the blocked entrance, they discovered more ruins in a hidden valley: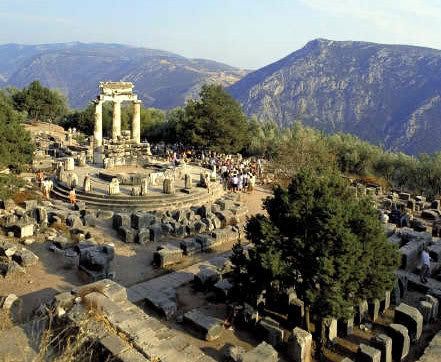 There is a lot of uncertainty at the moment as to who the builders of the ruins were and/or what they were doing within as excavations are in progress, and the dates of occupation have yet to be determined. The project area was code-named Oricon by King Alexei, as legend has it that Oricon was once the capital of an ancient civilization that existed within Einmyria that was destroyed due to the wrath of certain Ancient Einmyrian Gods. There are a few varieties of destruction in the story depending on who tells it in which region; some say that there was a devastating plague; others depicted a massive flooding; and others still, about how one God in particular banged his fist upon the Earth in order to make His Voice heard (which has been interpreted as an Earthquake).
The closest city to Oricon is Adelphi, which is near the banks of Lake Faraway. The few who have been granted special access to the site by the Ministry of Culture are rumored to have heard nonsensical noises that could not be explained. The Royal Archaeologists have written it off as a natural occurence, but the more superstitious have said that they are terrible echoes of the past.