Jae Chang-hwa
From NSwiki, the NationStates encyclopedia.
Jae Chang-hwa was a right-footed full back who played for the Starblaydia national football team after their hiatus. Originally she was one of the two female players selected by Starblaydia's first female coach, Betanii Marrones, for the World Cup 38 Qualifiers, making her debut against San Adriano in a friendly match mid-way through the qualifying campaign.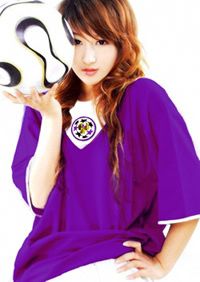 Full of vigour as a skillful attacking full back, Jae was, however, notorious in the football community for missing two crucial kicks in penalty shoot-outs that ended the Starblaydia Under-21s dreams of success, first in the International Justantina Cup in St Samuel against Jeruselem and then again a year later in the 2nd Di Bradini Cup against Candelaria And Marquez. It was perhaps for this reason that, aged seventeen, she was left out of the squad for the 25th Baptism of Fire, while nineteen year old Leandro Perheira was taken as a reserve in her place as a nod to the youth talent in Starblaydia at the time.
She proved to Marrones, however, that she was the best Right Back in the land and was given the Number Two shirt at the age of 23 for World Cup 39. Starblaydia were ranked 55th in the world at that time and were barely expected to qualify for the cup, but thanks to a run of five straight wins (in between which Starblaydia notched up a then-record 8-0 victory over Krytenia in a friendly match), they put themselves into the third qualifying spot. Jae scored two goals in the qualifiers, including the winner over Estresse Intenso, three matches in to the winning run. In the Cup itself, Starblaydia finished as Group G's 'winners' when all four teams were locked on four points and a scored-four, conceded-four goal difference with the qualifiers drawn by lots. Jae then scored in a two-one win over Jeruselem, putting paid to the penalty nightmare of six years earlier, but Starblaydia were thrashed 7-1 in the Quarter Finals by Valanora, a record defeat which still stands to this day.
Jae kept the number two shirt for World Cup 40 as Starblaydia co-hosted the tournament with Krytenia and, at the age of thirty-two, retained it for World Cup 41. Again she scored two goals in that campaign, including the final equaliser in a thrilling 3-all draw against Ad'ihan as Starblaydia became only the fifth nation in history to progress from the Group Stage with three draws. After defeating Zwangzug and Qazox, they got revenge for their hammering four years before by beating Valanora 4-3 in Extra Time in the Semi-Finals, and going on to gloriously defeat Capitalizt SLANI 2-1 in the Final to be crowned World Champions for the third time.
For most of her career, Jae was considered as Starblaydia's 'glamour girl' on account of her good looks. Even some forty years later, Warkus footballer Victor Vos was prompted to remark upon her beauty. Foreign commentators at the time were - at best - misogynistic in describing her as having a 'great rack [1], but her career statistics show she was an accomplished player. By the end of her international career she had won 87 caps for her country, putting her joint-tenth[2] on the all-time list alongside the great patriotic captain Darijo Cravex. It also made her the highest female cap-winner in the history of the Starblaydi team until she was overtaken by Diamontii Di Bradini after World Cup 44.