Francisco Martinez
From NSwiki, the NationStates encyclopedia.
Francisco Martinez
Notes
Di Bradini Cup 14 (with Starblaydia U21s) and Copa Rushmori (with Sargossa) winning Manager
Francisco Martinez is a tough-tackling, play-making central midfielder who was the first Starblaydi to play in Nethertopia, moving originally from Penningworth United. At international level, he has been included in three World Cup squads for the Starblaydia national football team, though never in the Starting Eleven, thanks to the presence of players like Rafaelo and Ázëwyn Fëanáro.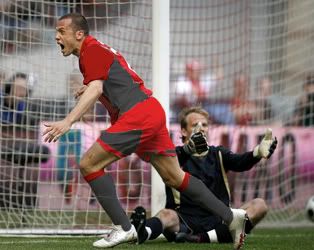 At club level, however, he enjoyed great success with Tenderville United, moving to them after a notable appearance in the
Di Bradini Cup
. He rose to the position of club captain at Tenderville, becoming an imposing figure at the club with his midfield displays. In Season XXXIV Tenderville finished third in the league and were runners-up in the C&M Cup.