Antrian National Olympic Committee
From NSwiki, the NationStates encyclopedia.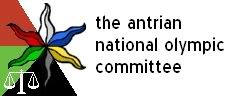 The Antrian National Olympic Committee, or ANOC is a committee run by the Antrian government that oversees Antrium's participation in the Olympic Games. They are a part of the Olympic Council. Their office is in Norria, a town just north of Sivaris.
It is called "Le Comité Olympique National d'Antrie" in French and "De Nasīonel Komīt Olimpīk do Àntrīàn" in Alvésin.
The Antrian Olympic Team's abbreviation is ANT.
They work with the South Antrium Sports Bureau to create South Antrium's delegation. They also work with Antrian sports teams to plan major events while the Olympics are not occurring.
This committee has announced the delegations for the following events:
Antrium medal totals
The following is a summary of the medals Antrium and South Antrium have been awarded in international competitions.
National Olympic Committees

Abcdefghijklmnopqrstuk | Ad'ihan | Antrium | The Archregimancy | Ariddia | Capitalizt SLANI | Carpathia and Ruthenia | Combined Team | Edward City | Iglesian Archipelago | Kelse | Kelssek | Kington Langley | Krytenia | Liventia | Mikitivity | Pacitalia | Ropa-Topia | San Adriano | Sargossa | Shivat | Sorthern Northland | Starblaydia | The Islands of Qutar | Vekaiyu | Vulshain