AR-22
From NSwiki, the NationStates encyclopedia.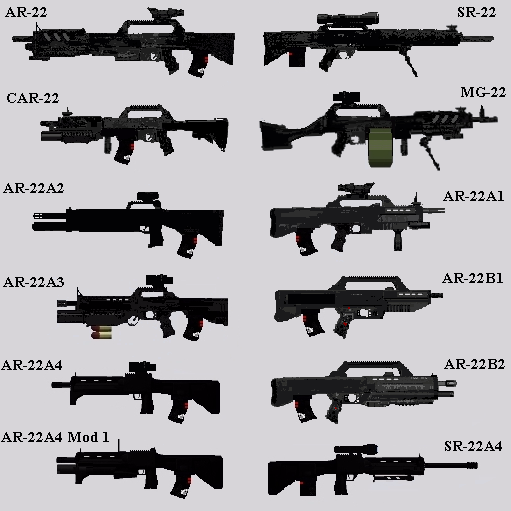 Ammo Types: .450 Phoenix(11.45x75mm)Teflon Coated, Full Metal Jacket or Hollow Point rounds, some versions in .450 Vixen
Underbarrel Weapons: 7.4 inch bayonet, 40mm or 30mm Grenade Launcher, 8 or 12 ga. Shotgun
Action: Gas Operated, Rotating Bolt, Select fire (auto/burst/semi-auto)
Total Weight: 7.5-18lbs(Depending on version)
Maximum Range: 600-800 meters(Depending on version)
Rate Of Fire: 520-800 Rounds Per Minute, Cyclic (Depending on version)
Capacity: 10, 16, 20 or 32 round magazine or 60-4 shot drum or 100/200/500 round box(Depending on version)
AR-22
Phoenix Dynamix's AR-22 Series of High-Powered Assault Weapons are all based around the original AR-22 which was originally designed by Johnified America's DARPA. The weapon was designed to fire the high-powered JSA .45 Caliber Rifle round, but when it was actually built, the slightly longer .450 Phoenix(11.45x75mm) round was used. Johnified America was unable to produce AR-22's in any quantity themselves, so through a deal with The Phoenix Milita government, Phoenix Dynamix began producing them in mid-2004. All versions of the AR-22 are still for sale on the open market except for the the A4 series(which is sold with restrictions) and the B series(which never entered full production). The AR-22 and its variants continues to sell at a steady rate.
SR-22
Phoenix Dynamix began making a sniper variant, the SR-22 shortly afterward. It was a bit lighter than the AR-22, but sported a heavier, longer barrel and integral bipod. It was a semi-auto only rifle and configured for use with 20 round magazines and a 10x telescopic sight. The SR-22 would remain a top selling sniper and designated marksman rifle for many years to come.
AR-22A1
In the Fall of 2004, certain special operations units as well as paratroopers within TPM requested a shorter, carbine version of the rifle. At first a simple shortened rifle was made, the AR-22A1. The AR-22A1 was essentially a chopped AR-22 without any under barrel weapons systems attached. While it was accepted by paratrooper units, it left the special forces dissatisfied, and they rejected it after live fire testing.
CAR-22
Through close cooperation with the Special Forces, Phoenix Dynamix developed the CAR-22 which was a non-bullpup configuration. The design borrowed some of the action from the MG-22, which was also in development at this time. The CAR-22 was finished just as the MG-22, a squad automatic weapon variant of the AR-22, hit the market
MG-22
The MG-22 was designed as a heavy, fast firing complement to the relatively slow firing AR-22. It would enter service alongside AR-22 and AR-22A1's but was never fully adopted in the Squad Automatic Weapon role. At best it could be considered a light machine gun, but most often performed the role of a medium or general purpose machine gun due to its weight and bulk.
AR-22A2
The design went much unchanged for quite some time, until TPM adopted a 30mm grenade launcher and decided to modernize its forces. The brass wanted an AR-22 with an integral laser sight, aiming light, and 30mm grenade launcher, as well as a standard rail system for additional scopes and other add-ons. Thus the AR-22A2 was born and it served as the main weapon of The Phoenix Milita, Tyrador, and Johnified America for many years.
AR-22A3
While the AR-22A2 was a very highly thought of weapon amongst regular forces, TPM special operations units found it too cumbersome, and retained the older CAR-22 or AR-22A1 variants for a time. But then in 2006, at special request of the KOP, the AR-22A3, which combined several design features of the previous variants into a manageable package. The AR-22A3 was considered the "best" AR-22 variant among the military despite the AR-22A4 replacement program. The AR-22A3 can also be converted to fire .450 Vixen round without the use of tools.
AR-22A4
The unproven A4 series is steadily replacing the A3 and the A2 in regular units. The AR-22A4 is significantly lighter and smaller than previous AR-22 and is manufactured in a number of variants. Mod 0 is the general designation given to the the stock AR-22, with no underbarrel weapons
Mod 1
The AR-22A4 Mod 1 features an integral 30x55mm grenade launcher and leaf sight.
Mod 2
The AR-22A4 Mod 2 features an integral 8 gauge shotgun.
SR-22A4
The SR-22A4 is very different from the original SR-22, and is more similar to the AR-22A4 than to any other weapons system. It features an integral lightweight bipod and custom sight clasp combination rail system for mounting all known accessories.